Pharmacy compounding is the art and science of preparing personalized medications for patients.
If you are sensitive to the taste of a medication or you have allergies to dyes and/or preservatives or have family members who have difficulty in taking medications…compounding may be the solution.
Customized medication compounding allows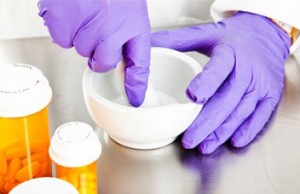 our pharmacy to formulate drugs that may not be commercially available. By working with your doctor, we can customize the strength and dosage form of a medication to your needs.
Compounding medications may involve:
Preparing formulations without preservatives or dyes
Changing a formulation strength to meet an individaul patient's need
Using a wide variety of dosage forms such as capsules, topical skin preparations, lip balms, suppositories, lollipops, lozenges, liquid drops and transdermal gels
Preparing liquid suspensions for those who cannot swallow a tablet or capsule
Flavoring medicine to improve its taste
Compounded drugs may include:
Eye and ear treatments
Podiatry treatments
Pediatric treatments
Veterinary medicine
Hormone Replacement Therapy
Talk to our pharmacy staff at Glades Drugs today to see if our compounding services may help you!